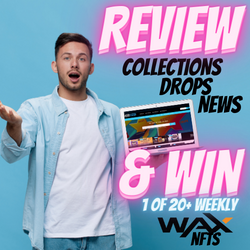 If you are an NFT artist, musician, or creator, promoting your NFT drop is one of the biggest challenges you may face. Unlike conventional marketing techniques, where you can easily reach potential audiences through paid advertising, promoting an NFT drop requires a little bit more finesse.
Fortunately, there are several organic ways to promote your NFT drops without spending a dime on marketing. By using these strategies, you can reach your target audience and maximize your sales without breaking the bank.
1. Build a Social Media Presence:
Social media is one of the most effective ways to market your NFT drops. Consider building a strong social media presence by creating profiles on various platforms such as Twitter, Instagram, and Discord.
Once you've built your accounts, create engaging content that showcases your work and interacts with your followers. For instance, you could share teasers of your upcoming NFT drop, ask for feedback on your artwork or music, engage in meaningful conversations with your followers, and join NFT communities to build your audience.
2. Collaborate with Other Artists:
Collaborating with other NFT artists is a great way to expand your audience and promote your NFT drops. By working with like-minded creators, you can leverage each other's skills and promote each other's work.
For example, you can collaborate with an artist whose audience complements yours, or a musician whose sound blends with your artwork. Together, you can create a drop that appeals to multiple audiences, promoting it through each other's social media.
3. Join NFT Communities and Forums:
Joining NFT communities and forums is a great way to build your network and promote your NFT drops. There are several online platforms, including Discord, Reddit, and Clubhouse, dedicated to NFT artists and enthusiasts. You can also
submit your NFT DROP or COLLECTION right here on Blockdropz
for FREE!
By joining these groups, you can interact with other creators, learn about new trends, and promote your work to a broader audience. Just be sure to read the rules thoroughly, avoid spamming, and follow the group's guidelines to avoid getting banned.
4. Host a Giveaway:
Hosting a giveaway is an excellent way to promote your NFT drop and reward your followers for their loyalty. You could offer a free NFT from your upcoming drop or offer discounts to your early buyers.
To participate, your followers may need to follow your social media accounts or share your post, boosting your reach and attracting more potential buyers to your drop.
5. Make Use of NFT Marketplaces:
Finally, don't underestimate the power of NFT marketplaces like Atomichub,  OpenSea, Neftyblocks, and Rarible. These platforms are designed to help NFT creators showcase and sell their work and attract potential buyers worldwide.
By listing your NFT drops on these platforms, you can leverage their vast audience and build your brand. Just be sure to optimize your listing by using relevant keywords, adding high-quality visuals, and pricing your NFTs competitively.
In conclusion, promoting an NFT drop requires creativity, persistence, and effort. By using the tips outlined above, you can maximize your reach, grow your audience, and attract potential buyers to your NFT drops without paying a dime.