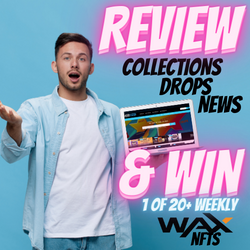 To help make BlockDropz a great place to Discover NFTS, NFT Collections, NFT Drops, NFT News, and more….they have implemented a new Review System to help all NFT Communities keep each other informed of all the Good, Bad, and Ugly going on in and around the Blockchain.
Simply leave a Review on any Post (Collections, Drops, News, Etc,), enter your wax wallet in the review area that says: 'Wax Wallet', and you could be 1 of 20+ Wax NFT Giveaway Winners Chosen Once A Week.
By leaving a review you are helping other Collectors in the NFT Community on which Collections, Drops, and Information is important For Finances, For Fun and For Security Purposes as well.