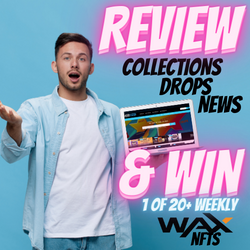 Zombie Outbreak Survival (ZOS), a strategic resource management game on WAX, has partnered with Atomichub to be their second Launchpad Partner!
In just one week, WAX fans will be able to purchase limited-edition Out of This World packs – dropping March 29 at 18:00 UTC!
-65
Days
-5
Hours
-26
Minutes
-51
Seconds
How can I purchase ZOS 'Out of This World' packs?
On March 29 at 18:00 UTC, 2000 Out of This World packs will be dropped on the AtomicHub Launchpad. Each pack will cost $29.99 USD.
To purchase from the drop, you'll need a WAX-compatible wallet, which you can create for free here. Both credit/debit card and $WAXP can be used to purchase, with a 50 pack order limit.
Shortly before 18:00 UTC, a queue for the drop will open, which you can join once logged in. At 18:00 UTC, everyone in the queue will be shuffled – once you hit the front, you can purchase your packs!
Once purchased, your packs will be available in your Inventory. These can then be opened via the Unpack tab, or traded with other users on AtomicHub.