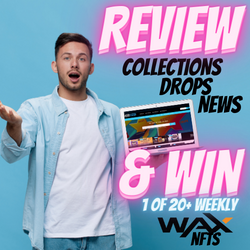 At the heart of our project is the desire to give something back to the collectors who have made the world of NFTs so exciting and dynamic. We believe that owning an NFT should be more than just having a static picture in your collection; it should be an opportunity to win special prizes and be part of a fantastic community.
We want every holder of our NFTs to have a chance to win, and that's why we are committed to hosting numerous giveaways that are sure to get everyone excited. After all, who doesn't love the thrill of a good giveaway?
By becoming a part of our community, you'll have access to all kinds of exciting opportunities to win exclusive prizes, meet other collectors who share your passion, and be part of a project that is dedicated to giving back to the people who make it all possible.
So if you're looking for more than just a boring picture to add to your collection, and you want to be part of a dynamic and exciting NFT community, look no further than our project. Join us today and get ready to win!